A new girl's shirt was recently put on sale on the JC Penney website, but was quickly pulled out after public backlash. This was the product in question.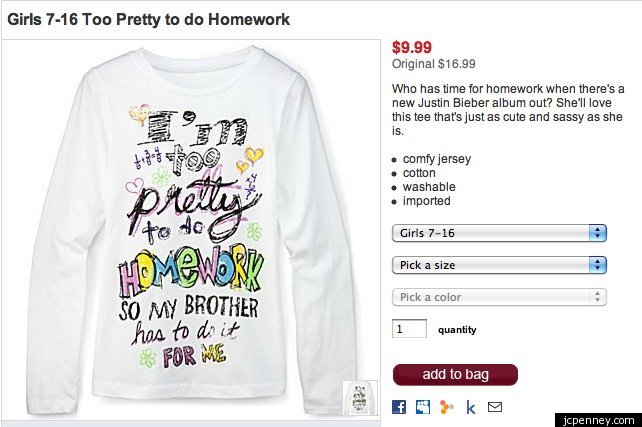 Personally, I would never buy this shirt for myself or anyone I know, but that's a personal preference. I admit that though it's not my cup of tea, I'm sure (with all the optimism in me) that the design was meant to be humorous and tongue-in-cheek. (though frankly it works better as sarcasm if it were just for teens and not little girls; also, my reaction would've been less guttural if it had said "... so my
sister
has to do it for me", rather than throw in that little extra dab of misogyny)
It's JC Penney's condescending product description that completely ruined it...
"who has time for homework when there's a new Justin Bieber album coming out?"
. Christ, I think JC Penney confused "demeaning your customers" with "brilliant marketing".
PS. If you can, try your hand at giving some of the others a bit of feedback. If you already have, thanks, can you do some more?