The site will put up poems and podcasts. You may if you wish, leave feedback, discuss, or dissect them. Where ever possible, we've laid links down to text of any related poetry.
---
The Poem Talk series:
Kelly Writers House impresario Al Filreis leads a lively roundtable discussion of a single poem with a series of rotating guests including Linh Dinh, Randall Couch, Jessica Lowenthal, Charles Bernstein, Rachel Blau DuPlessis, erica kaufman, and others.
---
Poetry Off The Shelf:
Producer Curtis Fox explores the diverse world of contemporary American poetry with readings by poets, interviews with critics, and short poetry documentaries. Nothing is off limits, and nobody is taken too seriously.
---
Poetry Mag Podcast:
Editors Christian Wiman and Don Share go inside the pages of Poetry, talking to poets and critics, debating the issues, and sharing their poem selections with listeners.
---
Essential American Poets:
Listen to Donald Hall's selection of classic American poets reading from their work. These recordings are being made available as the result of a collaboration between US and UK poet laureates Donald Hall and Andrew Motion.
---
Poetry Lectures:
Talks given by notable scholars and critics on poets, poetry, and their intersections with other art forms. Features recordings from historic archives and live events.
---
A named poet's poem, posted at random intervals:
Great classic and contemporary poems read by poets and actors.
---
Don't feel that some of these podcasts, discussions, or audio poems are out of reach when it comes to giving comments. we won't mock or berate anyone for saying what they feel or think.
Moderation will be almost non existent, though we do ask you to remember it's not the sewer, or pig's arse.
The majority of the works are courtesy of "The Poetry Foundation" there is a link to their site on the index page. We are extremely grateful to them for their Lectures, Magazine, and Poetry Podcasts.
---
---
How To Search TPP
The MyBB search engine isn't the greatest in the world for generic searches and looking at that realistically is the first step to finding what you want quickly on TPP. The second is to get familiar with the options that are provided to make your searches more specific so that weeding through irrelevant results isn't a problem.
The Main Search Window
At the top of every page there is a link to the main search window: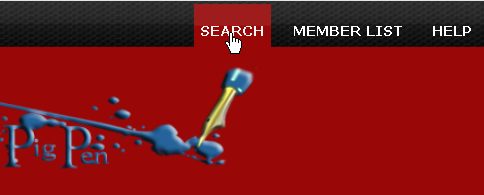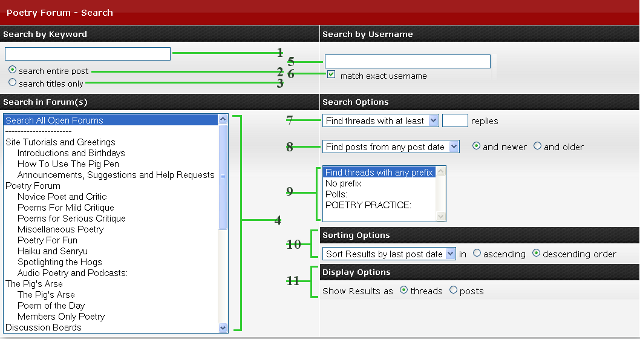 Keywords

tell the engine what to look for in posts, every other setting or option is about where to look for this text. Choosing unique words to search for is very important; ordinary or common words will make searches return massive amounts of unhelpful results.

Try searching for words that are particular to the post or thread you are looking for.
 

Choose whether to search the entire

post

(and its title) or

just the

title

of the thread.

If you can remember anything from the title try this option first. It will yield less results, but they tend to be more relevant than when the entire thread text is searched.
 

This dialogue allows you to specify which

forums

to search for your keyword(s). Again, if you know which forum the thread you are looking for was in (or even the

category

) it will help to reduce the amount of irrelevant results that you will have to weed through.
 

If you enter a

username

in this field


and

this checkbox is

ticked

then you will also refine your searches to a specific poster.

NOTE: This checkbox is ticked by default, but if the above textbox(5) is empty it will have

no effect

on search results.
 

To specify a certain

amount of replies

(or a range) use this dialogue.
 

Using the

date

function to narrow down the search results (even slightly) is a great way to get more relevant results.
 

Thread

prefixes

are used in certain forums so looking for poetry exercises or polls becomes much easier when using this option.
 

Descending

order

would show newer

results

first (by last post

date

) and ascending would show older results first.
 

Results shown as

posts

show fragments of the post so that you may preview the results first 100 characters. When shown as

threads

, there is still a link to the post in question but no preview.
More To Come
Searches can be performed from many pages of the site through dialogues directly under the main view port in:
The Forum Display page.

The Show Thread page

Your PM boxes
More info on these later, till then enjoy
---
About "The Poetry Foundation"
A leader in shaping a receptive climate for poetry
The Poetry Foundation, publisher of Poetry magazine, is an independent literary organization committed to a vigorous presence for poetry in our culture. It exists to discover and celebrate the best poetry and to place it before the largest possible audience.