And while on the subject of
abstract nouns
:
Driver's license photos (or any I.D. for the matter) are so uniformly bad that
this readily-verifiable/concrete body of evidence could possibly be used as the
basis for forming a non-subjective definition of the abstract quality "bad".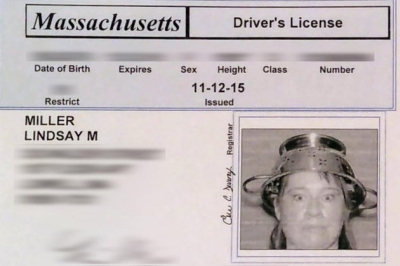 Pastafarian Allowed To Wear Colander In Driver's License Photo - from
Huffington Post
"The First Amendment applies to every person and every religion."
"A woman who belongs to the Church of the Flying Spaghetti Monster was allowed to wear
a colander on her head in a driver's license photo after her original bid to do so was denied.

Lindsay Miller of Lowell, Massachusetts, is a Pastafarian. In August, she was reportedly denied
a renewed license by the Massachusetts Registry of Motor Vehicles for wearing the spaghetti
strainer on her head.

"They were kind of laughing at me," Miller told the Boston Globe of the experience. "I ... thought
that this was not fair. I thought, 'Just because you haven't heard of this belief system, [the RMV]
should not be denying me a license.'"

A spokesperson for the RMV told The Associated Press that head coverings or hats are not allowed
in license photos, but said exceptions are made for religious reasons.

Miller said that wearing the colander on her head allows her to express her devotion to the Spaghetti
Monster, the Pastafarian deity."
You can find the Pastafarian Religion Wiki here.